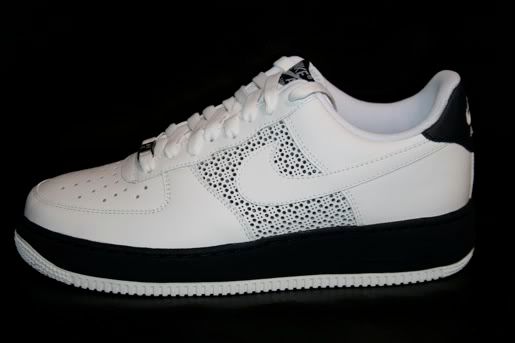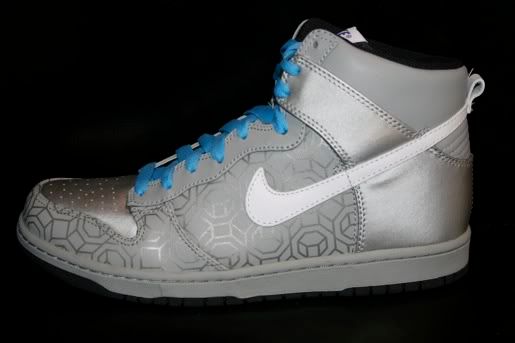 Nike + Human Race 10K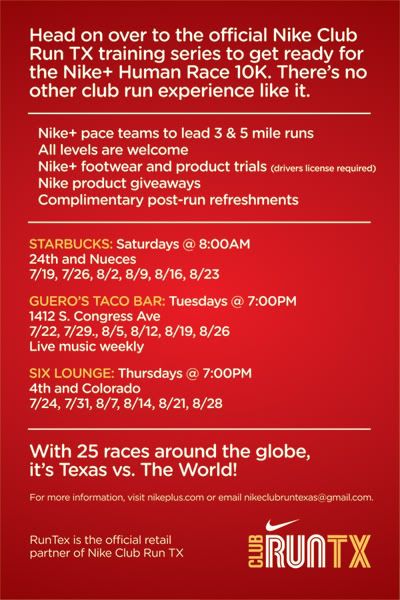 The Nike+ Human Race 10K
Nike will host the Nike+ Human Race, the world's largest one day running event ever, offering runners across the globe the chance to compete together on 8-31-08. This 10K event will span four continents and cover 25 cities, including Bogota, Buenos Aires, Caracas, Istanbul, Lima, London, Madrid, Melbourne, Mexico City, Munich, Paris, Quito, Rome, Sao Paulo, Seoul, Shanghai, Singapore, Taipei, Tokyo, Vancouver, and Warsaw.
Austin will serve as one of four US host cities including New York City, Los Angeles and Chicago (we've been told Portland is not an official city). Every race city will offer unique running routes, elite athletes and celebrities and will offer runners a post race concert by top musical acts. The first race will start in Taipei and the last race will take place in Los Angeles. With thousands of runners scheduled to participate in 25 races around the globe, it's time to Run with the World!
The goal is to partner with the entire community: runners, non-runners, elite runners, corporations, local businesses, youth, students and families to engage folks like you to run and be part of history on 8.31.08. The Nike+ Human Race will be an experience like no other, here's why.
Run for a Cause: Charity Component
Beyond running and music, the Nike+ Human Race is also an opportunity to give back. Participants will be able to run for a worthy cause and support the three official Nike+ Human Race charitable partners: the Lance Armstrong Foundation (www.livestrong.org)– uniting people in the fight against cancer; WWF (www.worldwildlifefund.org) the global conservation organization addressing the causes and impacts of climate change; and the UN refugee agency's ninemillion.org campaign (www.ninemillion.org)– bringing sport and education to refugee youth. Together, Nike and runners will raise funds to donate at least USD $3 million to the Nike+ Human Race charities. Money will be raised via givebacks from registration fees, a percentage of Nike+ Human Race t-shirt sales and a donation of USD $1 million from Nike.
Train With Us
Nike's Club Run Austin training series will officially kick off at the Starbucks location at 24th Street & Nueces near the University of Texas campus and The Drag on July 19th. Offering six weeks of training and a total of 18 runs through August 28, the training run schedule is as follows:
SIX LOUNGE: Thursdays @ 7:00PM
4th and Colorado
7/24, 7/31, 8/7, 8/14, 8/21, 8/28
GUERO'S TACO BAR: Tuesdays @ 7:00PM
1412 S. Congress Ave
7/22, 7/29., 8/5, 8/12, 8/19, 8/26
Live music weekly
STARBUCKS: Saturdays @ 8:00AM
24th and Nueces
7/19, 7/26, 8/2, 8/9, 8/16, 8/23
Nike's Club Run staff will be on hand at all training runs, signing in runners, coordinating Nike shoe trials, leading runs and joining you for some free beer and food. There's no other club run experience like it.
 Nike+ pace teams to lead 3 & 5 mile runs
 All levels are welcome
 Nike+ footwear and product trials (drivers license required)
 Nike product giveaways
 Complimentary post-run refreshments
For more information, visit nikeplus.com [INSERT http://nikeplus.nike.com/nikeplus/humanrace/index.jsp] or email nikeclubruntexas@gmail.com.